INDULGENCE WEEKEND MENU
September 12th 2020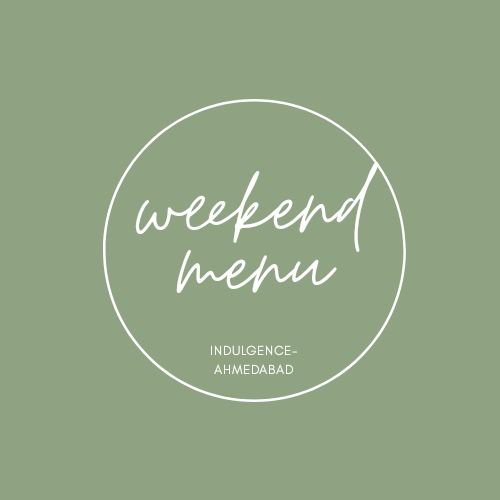 WEEKEND MENU 12-13 September,2020
SNACKS/ STARTERS
Veg Kebabs Rs 270/6pc
Crispy Wontons Rs 250/12pc
Mini Rolls -Chilly cheese Rs 320/25pc
Samosa Chole Chaat Rs 150/-
Flaky Pot pie - Amritsari chole Rs 120/-
Loaded Nachos Rs 380/-
CHIPS
Nachos Rs 90/200gm
DIPS
Hummus Dip Rs 230/155gm
Hummus chilly Garlic Dip Rs 250/155gm
Basil Hummus Dip Rs 250/155 gm
Chunky Salsa Dip Rs 230/155 gm
Cheese herb dip Rs 250/155gm
LAYERED DIP Rs 650/500gm
SALADS
Mexican Tex -Mex Rs 250/-
Chana cottage Cheese Rs 270/-
Spicy Tomato Feta Rs 420/-
SAVOURY PIES 6 "
Mushroom Cheese Rs 380/-
Paneer Masala Rs 380/-
Corn capsicum Cheese Rs 350/-
*NEW Potato n Leek Pie Rs 380/-
THIN CRUST SAVOURY PIE 10".Healthiest Pie Pizza in Town!
Mix veg and Cheese Rs 800/- loaded with Mix veggies and mix cheese
GRILLED PANINI SANDWICH/ TURNOVERS
Spicy Tex mex Cheese Panini Rs 230/-
Lebanese hummus Cottage cheese Panini Rs 240/-
Mushroom cheese Panini Rs 230/-
Egg n cheese Panini Rs 230/-
Falafel Pocket Sandwich Rs 240/-
Basil Tomato Panini Rs 230/-
Cheese jalepeno Turnover Rs 230/-
BAKES/MAINS/ RICE
Baked Potato- Mexican (Beans n sour cream )Rs 250/-
Stir Fry rice with crispy Veggies Rs 400/-
Mexican hot-pot Rs 420/-
DESSERTS/CAKES/ CHEESECAKES/PUDDINGS / PIES
CHOCOLATE PIES 8"Available in slice /Full
Chocolate cream n orange Pie Rs 140/840
Chocolate Blueberry Pie Rs 160/960/-
Chocolate Coffee Cream Pie Rs 140/840
Chocolate Hazelnut Ferrero Rs 160/960
Chocolate Lemon Creamcheese Rs 1500/-
FRUIT CRUMBLES 8" Available in slice/Full
Apple crumble Pie Rs 220/1260
CHEESECAKES 500gms Available in slice /Full
Lemon Cheese cake Rs 160/800
Nutella Rocher cheesecake Rs 170/850
Blueberry Cheesecake Rs 160/800
Chocolate Cheesecake Rs 160/800
FRESH Jamun Cheesecake Rs 170/850
SMALL CAKES/ SHEETCAKES/POUNDCAKES
Single Layer Choc Truffe Rs 700/500gms
Single Layer Red velvet Orange buttericing Rs 700/500gm
Single Layer choc Truffle with Coffee Frosting Rs 800/-
Single layer Choc truffle with Rose Frosting Rs 800/-
SHEETCAKE /OPEN CAKES
Chocolate Rs 120/1200
NEW FRUIT CUSTARD GATEAUX Rs 140/pc
APPLE BERRY Rs 120/1440
POUND CAKE - 600gms
Orange Cranberry Rs 760/ 880/-
Coffee Apricot Rs 760/880
PUDDINGS Available in small /500gm
Chocolate Mousse pudding Rs 210/600
Black forest Pudding Rs 200/550
LAMINGTONS/MUFFINS/CUPCAKES/TARTS
Australian Lamington Rs 140/-
Chocolate Orange Rs 85/-
Apple Rs 50/85
Chocolate Strawberry Rs 85/-
Vanilla Chocolate Chip Rs 50/85/-
TARTS
Lemon Tart Rs 120/pc
Chocolate Tart Rs 120/-
HAP- PIE INDULGENCE!!!